24 Hours in San Francisco: a Family Itinerary
San Francisco is a beautiful city with lots to keep you entertained for weeks or longer. But if you only have one day to spend there, you'll want to hit the hot spots. Read on to see how we spent 24 hours in San Francisco with our family. We truly fell in love with this city — you might say we left our hearts there!
We visited San Francisco near the beginning of our family gap year. We had spent a month in Washington and were headed to meet up with extended family for a Disneyland visit, so we took the chance to enjoy a nice drive down the California coast, stopping to sightsee along the way.
We still talk about San Francisco as one of our favorite cities we've visited. It's iconic and beautiful, and there are a lot of fun things to do! Here is how to see the best of San Francisco in one day!
Golden Gate Bridge
We spent the night before in Santa Rosa, about an hour north of San Francisco, so the first thing we did in the morning was to drive across the iconic Golden Gate Bridge.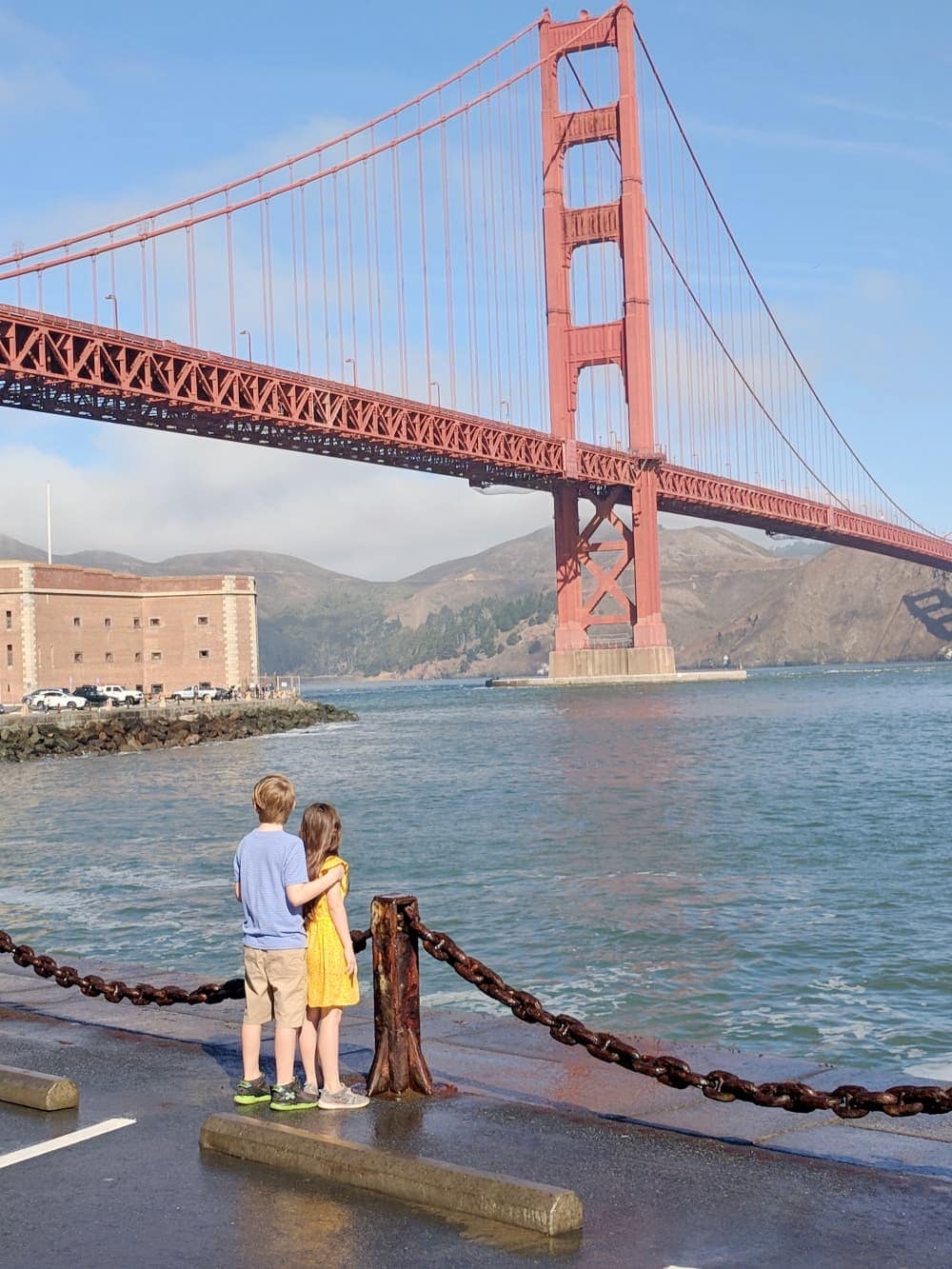 And yes, because we are big dorks, we played the Full House theme song as we drove across.
Fort Point & Hoppers Hands
Just over the bridge, we pulled into the Golden Gate Bridge Welcome Center and took some pictures. From there, we wanted to walk down to Fort Point, so we took a path that included walking through a low tunnel and down a huge staircase (with a stroller!).
We walked along the water, with incredible views of the bridge the entire way. The kids had fun trying to get splashed when wake waves crashed up against the bank.
At the end of the trail, we had to "high five" Hoppers Hands. Melody put her hands on the doggy paws!
After we slapped the hands, we turned around and faced the long walk (and huge staircase) back. Luckily my superhero hubby volunteered to do the hike alone, and after a little bit, he drove down to pick us up in our van!
From there, we drove over to the Palace of Fine Arts, a gorgeous Greco-Roman palace surrounded by picturesque water and gardens.
Palace of Fine Arts
We strolled through the grounds, and I got so much joy watching my oldest daughter dance in the middle of the palace. It struck me that she could be sitting in a classroom somewhere, learning about the world from a book, and instead she's out in the fresh air, in an area of the country we've never visited before, dancing in a palace of the fine arts.
Yoda Fountain & Lucasfilm Lobby
Nearby are some Industrial Light & Magic and Lucasfilm offices, so we walked over to visit the Yoda fountain out front!
Anybody can step into the Lucasfilm lobby, so we went inside briefly to see the Star Wars memorabilia!
Fishermans Wharf & Boudin Bakery
From there, we drove over to the famous Fishermans Wharf and had lunch at Boudin Bakery. Mmm, I can still taste the bread bowl soup I had.
If you've ever visited California Adventure at the Disneyland Resort, you might know that they have an area that's set up to look like San Francisco, and you can walk through a bakery tour where they are making sourdough bread, and learn about the history of the Boudin Bakery. We got a kick out of being at the real one!
Pier 39
After lunch, we walked down to Pier 39 where we laughed at the sea lion antics, watched a street performer do incredible feats like juggling knives on top of a series of metal pipes, and rode a double-decker merry-go-round!
Harrison even got to be in the show! The performer got out some giant knives and asked for a volunteer, jokingly. He looked our way so I gestured to all the kids, and he laughed and said, "come on up!" So Harry WENT!
The performer was like, no I was just kidding, but Harry was on his way, so he had Harry go up on stage, and he balanced a spinning ball on Harry's finger. It was so adorable!
From Pier 39, we could look across the water and see Alcatraz. If we visit again, we'd love to take a tour, but it wasn't a good fit for the little ones, so we skipped it on this visit!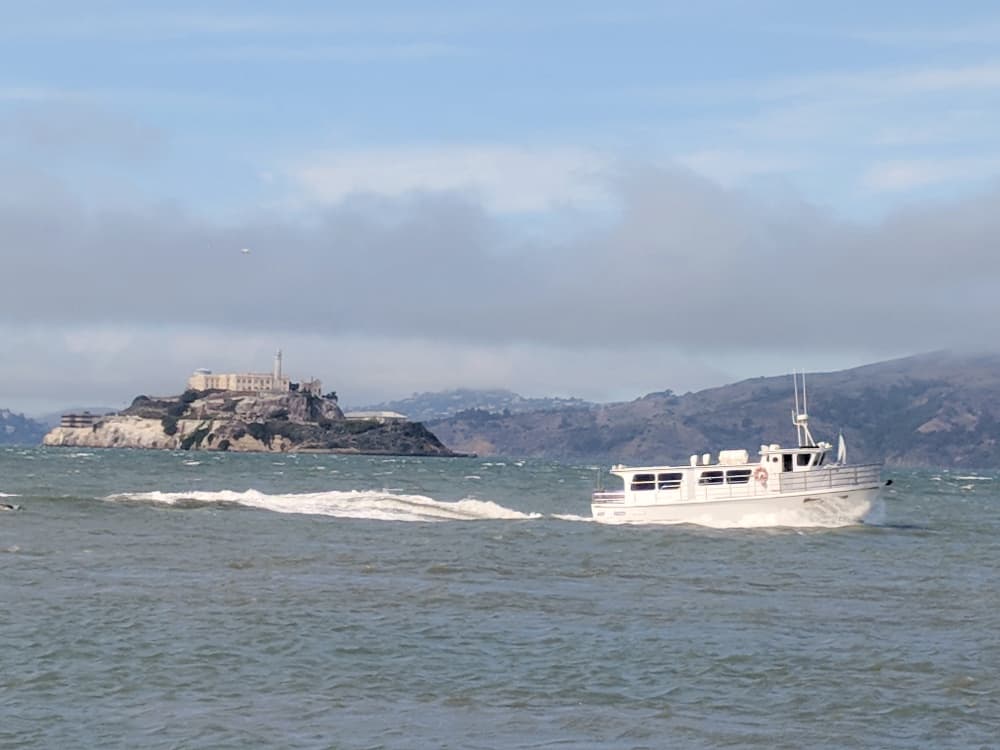 Ghirardelli Square & Ice Cream Shop
From Pier 39, we walked back past Boudin Bakery and down to Ghirardelli Square, where we visited The Original Ghirardelli Ice Cream & Chocolate Shop. The kids got ice cream, and the adults got hot chocolate — delicious and a great afternoon snack!
Cable Car Ride
The sun was starting to begin its descent, but we did NOT want to leave San Francisco without the quintessential San Francisco experience of riding a cable car!
Lots of other people had the same idea, so it was not a short wait, but we stuck it out and eventually scored a spot. Daniel sat inside with our three youngest kids, and Carter and I braved the outside!
Lombard Street
We rode up to Union Square, which is a busy commercial area, took a quick walk around, and then got back on another cable car to ride back the other way. On the way back, we got off at the top of famously curvy Lombard Street and walked to the bottom (there are stairs — great for walking down but not recommended with a stroller!).
From there, we made our way back to our car and had to then drive down Lombard Street, for the full experience. We also drove past the Full House house, just to see it. But then it was getting to be full dark, so we wrapped up our day and headed to our hotel!
---
We loved our day in San Francisco. In early October, the weather was just perfect, and the parks and waterfront were so beautiful. We didn't check everything off our list, but we were happy with our day of activities!
Here are some other things we want to do when we visit again:
Haight/Ashbury sign
Ocean Beach/Lands End
Japanese Tea Garden
16th Avenue Tiled Steps
Seward Street Slides
The Wave Organ
Fortune Cookie Factory
Ferry Plaza Farmer's Market
Wells Fargo Museum
Alcatraz tour
Gingerbread House at the Fairmont Hotel
I hope this gives you plenty of ideas for how to spend your day in San Francisco. Open up that Golden Gate!
After visiting San Francisco, we highly recommend driving the Pacific Coast Highway down the coast of California!
Pin it if you love it!