24 Hours in Seattle with Kids
If you've found yourself in the Emerald City (that's Seattle) with a gaggle of children and just one day to explore, this is the post for you! Our family of 6 spent a month of our family gap year near Seattle, and these are our recommendations for how to spend 24 hours in Seattle with kids!
First, let's tackle some frequently asked questions about visiting Seattle with kids.
Seattle with Kids FAQ
Is Seattle family-friendly?
Yes! Seattle is full of parks, playgrounds, and kid-friendly activities to please all ages!
How many days do you need in Seattle?
You can hit the top attractions in one day, but we recommend two or three to be able to experience the "Emerald City" to its fullest! This post will show you how to spend 24 hours in Seattle, but we'll also show you what to do if you have another day to spare.
What can you do for free in Seattle?
There is so much to do in Seattle without dropping a dime. We'll cover several free activities in this post, including a massive playground, touring Amazon, great views of the Space Needle, and even free boat rides!
Is Seattle expensive to visit?
As we just said, there are lots of free activities to choose from! Seattle can be more expensive than other areas of the country, in general, but it's all dependent on what you choose to do. You can take advantage of free activities and eat cheaply to save money. Parking is free on Sundays, which is why we chose Sundays to drive into town for our adventures!
What is the best time of year to visit Seattle?
We visited in September and the weather was wonderful! Some days were rainy, as you'd expect, but it was almost always just a mist rather than a downfall. Summer is the most popular time to visit, but consider stopping by in the spring or early fall to avoid crowds and still enjoy pleasant weather.
Got more questions? Leave them in a comment, and we'll add them to the list!
24 Hours in Seattle Map
Here's a helpful map showing each of the locations on my 24-hour itinerary:
24-Hour Seattle Family Itinerary
If you've got just 24 hours to spend in Seattle, you better get up early and get a move on! There's lots to see and do, and you've got to fit it all in, in just one day!
Some people will tell you to skip the more obvious tourist attractions, but they are popular for a reason! This post will focus on the more well-known Seattle attractions, but if you want some more off-the-beaten path ideas, check out our other post: Unique Things to Do in Seattle with Kids!
#1 The Center for Wooden Boats
Caveat: This is only if you're in town on a Sunday!
Every Sunday, the Center for Wooden Boats offers free boat rides on Lake Washington on a first-come, first-served basis. It's an awesome opportunity to get out on the water and see the city from a different angle. Also, who doesn't want to start a Sunday morning with a relaxing boat ride?
Get there right when they open to make sure you get on the list! While you're in line, they'll give you a rundown of what boats will be going out, at what times, and how many people they can hold. If you sign up for a later time, you can go do something else and then return.
We were able to get on a sailboat that was going out almost right after we signed up, so we hurried over to pick out life jackets and get on board!
Our captain told us that we were sailing on the boat that was used for the Center for Wooden Boats' logo!
While we were sailing the lake, we saw several seaplanes land and take off.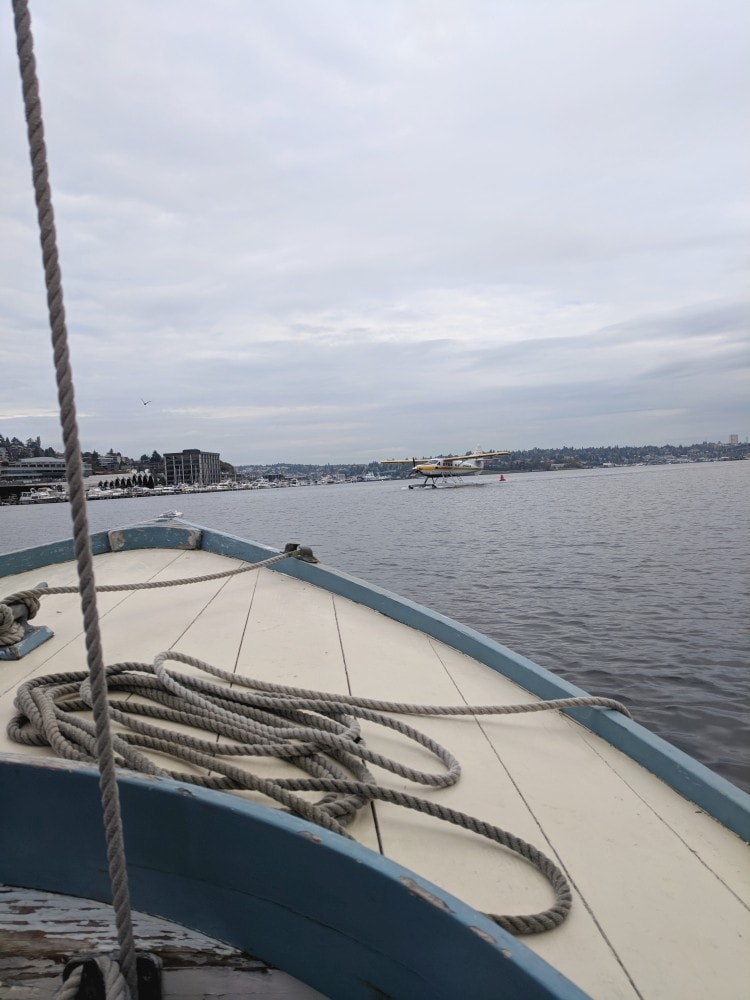 That day just happened to be a wooden boat festival, too, so we walked past some booths and stopped to make bookmarks and then to watch some toy sailboats.
#2 Pike Place Market
If it's not a Sunday, or you got on an early boat ride, you might want to head to Pike Place Market before it gets too crazy! Once the day gets going, that place can get very crowded! If you're coming from the Center for Wooden Boats, we recommend reparking near Pike Place, and then you can walk or monorail to the rest of these locations.
If you go early enough, you can browse the stalls without bumping into too many people. Do like we did and grab a "Texas donut" at the bakery and share with the family for breakfast!
Pike Place Market is an iconic place to visit while in Seattle, but also a great place to grab a meal, a snack, some souvenirs, or local food to bring or send home.
There are several levels to the market, with stalls inside and outside, so be sure to explore it all! While you're there, don't miss the famous gum wall in Post Alley and the original Starbucks, right across the street.
And don't forget to see the fish guys throw the big fish around! They usually wait until a big crowd has gathered, and they'd really prefer to toss an actual order back, but if there are no orders they'll usually throw a fish just to make the crowd happy! Watch out for the monkfish- it's been known to scare small children…
#3 Amazon Spheres
Whether you've spent your morning touring Pike Place Market, sailing Lake Washington, or both, we recommend heading over to the Amazon Spheres and checking out Understory, the museum inside the Spheres. This is just a short 10-minute walk from Pike Place Market.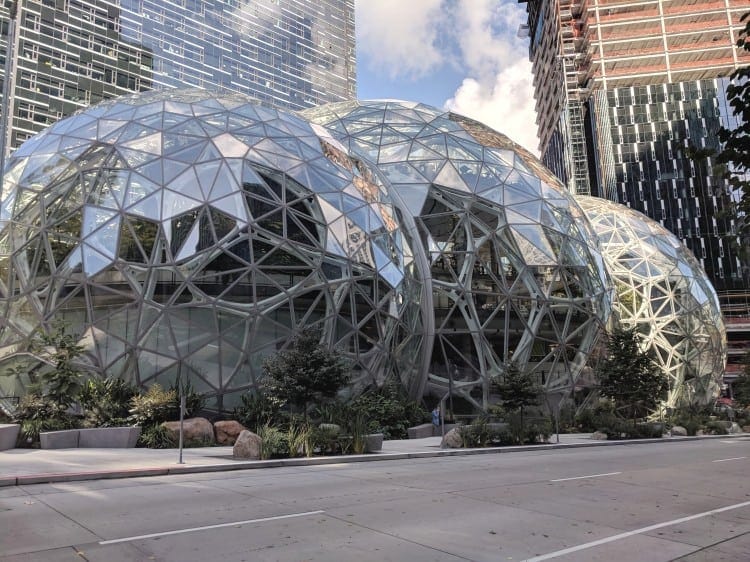 This can be a pretty quick visit, but you get to go inside the Spheres and learn about how and why they were built. Afterward, go down the street to Amazon Go to grab a sandwich and cookie for lunch, or explore the neighborhood for a sit-down restaurant if you want full service.
Read our full post on visiting Amazon in Seattle!
#4 Space Needle
From the Spheres, you can take a longer walk of about 15 minutes to the Seattle Center, home of the Space Needle, or you can take the shorter walk of about 5 minutes over to the Westlake Shopping Center and then take the monorail over to Seattle Center.
Get in line to purchase Space Needle tickets right away, because you may have a bit of a wait until your entrance time. If you do, there is the awesome "Artists at Play" playground right nearby, to entertain the little ones while you wait for your time!
When it's your entrance time, you'll enter the Space Needle and walk past some interactive exhibits as you make your way toward the elevator. These will tell the history and some statistics about the Space Needle. The elevator ride is a little intense, if you're scared of heights, but it is quick!
Once at the top, you can explore two levels. Step out onto the open-air deck and recline on a glass bench with all of Seattle behind you!
Then head inside and down the stairs to experience the enclosed deck with rotating glass floor!
Whenever you've had your fill of the breathtaking views, you can head back down in the elevator. Our admission included a visit to the virtual reality experience downstairs in the gift shop where you can virtually jump off the Space Needle. It was pretty cool but a little scary!
Also at the Seattle Center is the Chihuly Garden and Glass Museum and the Museum of Pop Culture, which we definitely would have visited if we had more time.
After a full day of sightseeing, you're probably ready for a nice, sit-down meal where you can relax and enjoy some delicious food, and you'll find several options right at the Seattle Center. Or you can take the monorail back and head anywhere you'd like for dinner!
#5 Watch the Sunset
If you didn't already get to watch the sunset from the Space Needle, head somewhere with a great view! We enjoyed the skyline view from Gas Works Park. If the kids have any energy left to get out, they can do it by running around and rolling down the hills!
Another good option is to take the Bainbridge Island Ferry (maybe have dinner on the island- plenty of options within walking distance from the ferry landing) and make your return trip during sunset.
After such a full day, most kids (and adults!) will be ready to fall into bed! But if I can recommend just one more thing…
#6 Hot Cakes Molten Chocolate Cakery
Because a day of excessive fun and delight should be capped off the same way! Visit Hot Cakes for a sweet treat before heading home and falling into bed!
---
That's it, my friends! There is SO much to do in Seattle, but these are my recommendations for if you only have 24 hours to visit. I hope you have more!
Don't forget to visit our other Seattle posts for even more ideas on what to do: