Visiting Amazon in Seattle
Seattle is known for being Amazon Headquarters, and there are some fun Amazon experiences to be had in the city. We visited Seattle during our family gap year and got to have some Amazon fun!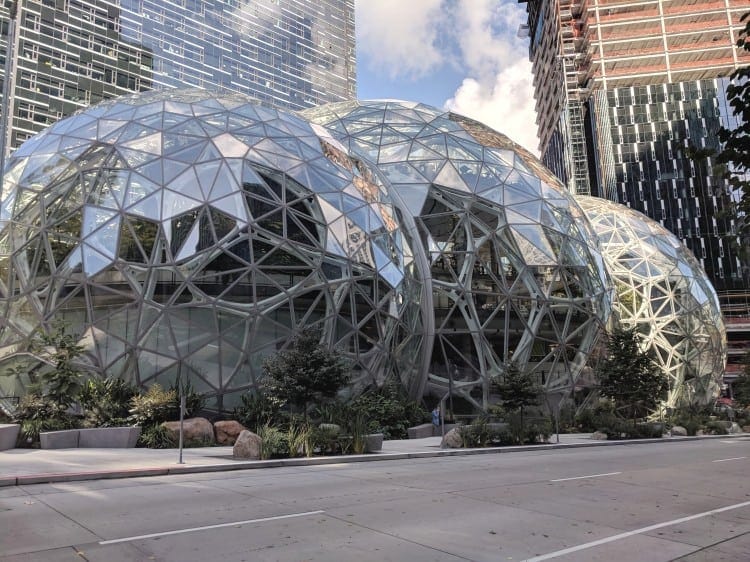 How to Visit Amazon in Seattle
There are lots of buildings in Seattle that house Amazon's offices, but I'm going to focus on the places that anyone can go visit. Spoiler- these are the most fun places anyway!
Amazon Spheres
The Amazon Spheres are gorgeous to look at and cool to learn about. They house a living garden as well as offices for employees!
The Spheres are open to visitors by reservation on the first and third Saturday of each month. But if you can't make it then, not to worry! There is a little museum inside the Spheres, called Understory, that anybody can visit! It's open Tuesday-Saturday from 10 am–6 pm. I stumbled upon this one day when I was exploring on my own, and I took the whole family back on our next visit.
Understory has interactive exhibits where you can learn about how the spheres were built, the living plants inside, and how Amazon is working to improve its neighborhood. It's how we learned about the banana stand (more on that below!).
Kids can build a city with blocks in one area and put model spheres together in another. These kept the younger ones entertained while we took a look around.
There's a big screen that periodically shows informational videos about the Spheres, and you can hear the audio by standing in one of the lighted spots. Walk out of the circle and it's silent!
I definitely recommend a visit to the Amazon Spheres. Be sure to go when you can visit Understory!
Amazon Go
Just down the block from the Amazon Spheres is an Amazon Go store. This is like a mini grocery/convenience store, with mostly food products, including ready-to-eat meals. The cool thing about the store is that you don't check out!
Imagine going to the grocery store, loading up your cart, and then just walking out the exit. That's how it works at Amazon Go! No more hassle of taking everything out to get it scanned, paying, and then putting everything back in your cart.
Before entering, you have to download the Amazon Go app and enter in credit card information. Then, you scan the app to enter, and anything you take off the shelf is added to your virtual cart. If you replace the item, it's taken out of your cart. When you exit, anything you take with you gets charged to your card! This is definitely the future of grocery shopping, and I can't wait.
We grabbed some food for our lunch and enjoyed a little picnic outside by the Spheres.
As of Summer 2023, you can find Amazon Go stores in Chicago, New York, and Los Angeles, as well as Seattle, or visit Amazon Fresh in London. If you end up near one, definitely check it out!
Amazon Banana Stand
If you're in town on a weekday, make sure to stop by the Amazon Banana Stand! We always visited on weekends, so we missed out, but we learned about the stand at the Spheres.
Amazon has two banana stands now, open every weekday from 8 am–3:30 pm, and bananas are free! That's it. Stop by, say hi to the "banistas," and grab a banana. That's pretty much the whole story!
Amazon is a huge part of the city of Seattle, so if these places interest you at all, be sure to stop by and visit when you're there!
Read about our other Seattle adventures with kids!
Pin it if you love it!