How to find the blue domes in Santorini, Greece
Greece was one of the top countries on our list to visit during the European leg of our family gap year. We definitely wanted to visit Athens for the history, but I also wanted to see those beautiful blue domes that stand out from the hillside of white houses in…well I wasn't sure where! I just knew they were somewhere in Greece.
Where are the blue domes in Greece?
A quick Google search filled in my lack of geographical knowledge. Blue-domed churches can actually be found all over the Greek islands, but the ones I was looking for were on the island of Santorini, in a town called Oia (pronounced EE-ah).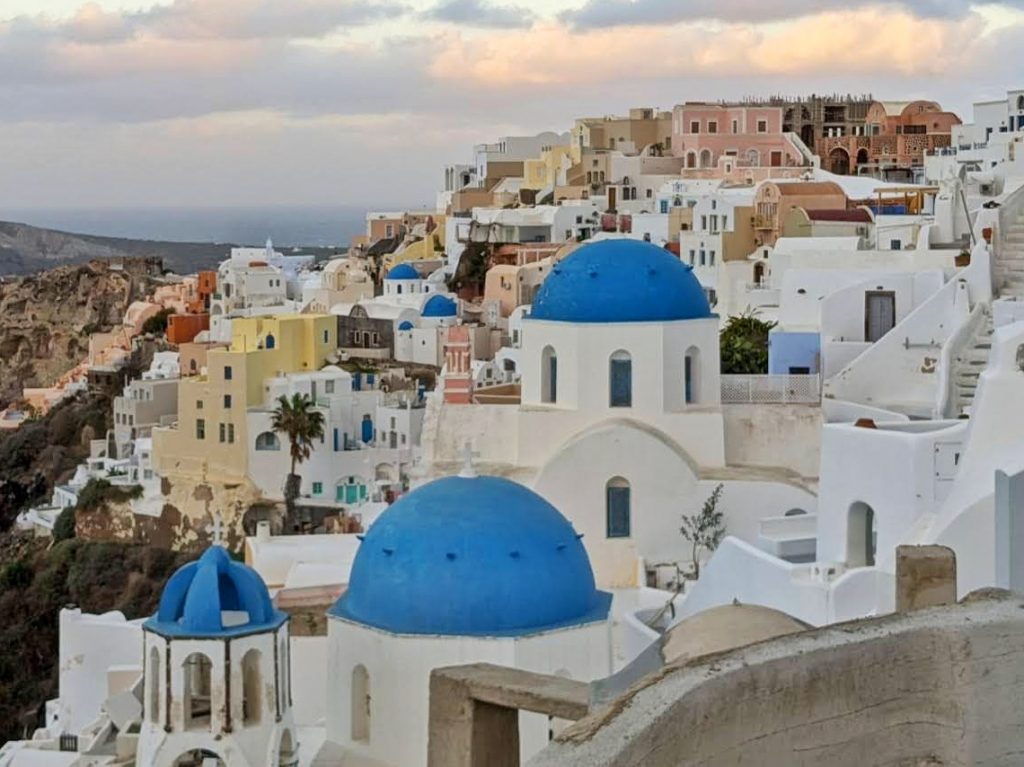 Well, I wasn't going to come all the way to Greece and NOT see this iconic sight, so after our three-week stay in Athens, we booked a weekend getaway to Santorini!
Staying in a windmill
I talk a lot about how taking a family gap year isn't the same thing as being on vacation. We stay in most locations for a month at a time, we homeschool, we work 9-5 jobs, etc. But we also take the occasional vacation-within-a-long-term-vacation! And this was one of those times.
We stayed three nights in one of Oia's iconic windmills (yes, Oia gets to have iconic church domes AND iconic windmills…it's a pretty iconic place).
It was probably the coolest place we've ever stayed, but I'll go into more detail on that in another post. Let's stay on message.
How do I get to the three blue domes in Oia?
If you've already tried Google Maps, then you probably understand why this post is necessary. Finding blue domes on Santorini is easy. Finding the perfect place to take a photo of several blue domes in Oia is NOT! But don't worry, because I'm going to show you exactly, step-by-step, how to find the domes and get that perfect shot.
Oia is a small town, built on a hillside of an island formed by a volcano. It's very cool, very unique, and very cramped. Most of the streets of Oia are more like walkways, with lots of steps, and you'll almost definitely run into some donkeys because cars cannot traverse these streets.
A lot of the streets are not named and/or not marked, and the buildings don't have exact addresses, so finding your way around is an adventure. Like I said, it's not a large town, and it can be a fun, exciting adventure, but when you just want to find those domes to snap your shot, it can be a little frustrating.
I found some great instructions online, but the info wasn't quite accurate. Either because we visited in winter and many of the shops were closed, or because the posts were out-of-date and the store signage had changed, some of the landmarks were missing.
But here we go. This is EXACTLY how to get that classic postcard shot of the blue domes of Santorini.
Assuming you're staying in Oia, you can walk to the best place to see the iconic blue domes. If you're staying in Fira or elsewhere, you may want to drive into Oia first. There's quite a bit of parking in the center of Oia, both along the street and also free parking lots, but spots may fill up quickly during the summer season and especially at sunset.
However you get to Oia, you want to head for the Church of Panagia Akathistos Hymn. Now this you CAN find on Google Maps. You can also look for Oia Central Plaza.
Turn so the church is behind you, and you are facing toward the sea. Walk to the street (Nik. Nomikou) and turn right.
Walk about 1 minute/200 feet/60 meters, and you'll see this church on your left. It's hard to miss!
Here's where I got a little mixed up. You want to turn left immediately after this church onto a small pathway. The church's courtyard with the bells will be on your left side.
Follow that alleyway down to this door. Where does it lead? We don't know. Probably somewhere private, but that's okay because you're not going through it.
You can head left or right from this door and get the best views of the blue domes of Oia. I preferred the view from the right-hand side.
And that's really it! To recap:
Where are the three blue domes in Santorini?
Get to Oia.
Find the Church of Panagia Akathistos Hymn or Oia Central Plaza.
Face toward the sea and walk right on Nik. Nomikou for 200 feet.
Turn left immediately after the big church with the blue dome and three bells. The church's courtyard will be on your left.
Follow that path to the brown door and turn right.
Enjoy the view!
People often reference three blue domes, but as you can see from my pictures, you can get five at once!
And sometimes the silliest pictures actually turn out to be the best!
When is the best time to visit the blue domes of Oia?
I strongly recommend taking photos both at sunrise and sunset for some different lighting and moods. Mid-morning is a great time to take shots of the domes themselves, but not the best time for selfies because the sun will be right in your eyes.
As far as time of year, I would choose spring or fall. Summer is going to be absolutely packed, and you'll likely be sharing the best photo spots with tons of other visitors.
We visited in early January, which was great for photos because we were pretty much the only people in town, but not great for the visit as a whole because almost all of the restaurants and shops in Oia were closed. We did, however, have a fantastic time and got to see other parts of the island as well.
I wish you the best of luck on your trip to beautiful Greece, and I hope these directions help you find the blue domes of Santorini so you can get the photo of your dreams!