Driving the Pacific Coast Highway: a Road Trip Guide for Families
Driving the Pacific Coast Highway is something that belongs on every traveler's bucket list! There's nothing quite like driving right on the edge of the continent, gazing out over the cliffs to the deep turquoise waters below.
There's a lot to see along the Pacific Coast Highway, and it can be hard to decide how to spend your time while driving it. That's what we can help with!
When we began our family gap year, our first stop was the Pacific Northwest and our second stop was Anaheim. That gave us the perfect opportunity to do something we had wanted to do for a long time: drive the Pacific Coast Highway!
So after a month near Seattle, and a day each in Portland and San Francisco, plus a quick visit to the redwood trees, we set off down the PCH.
Pacific Coast Highway Map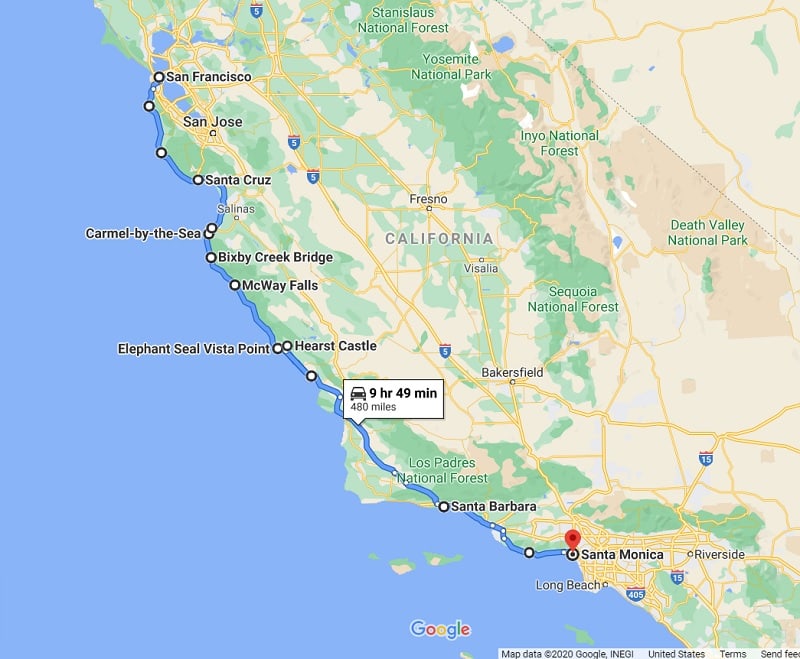 Pacific Coast Highway Road Trip
There's lots to do along the PCH, so you may want to prioritize. What do you want to do or see the most? Do you want time on the beach? Shopping at local markets and specialty shops? Sightseeing? Hiking and adventure? Or all of the above?
You'll have to balance out the things you want to do with the amount of time you have. You could easily take your time and spend a week or two traveling the PCH, making lots of lazy stops along the way. You could also hit the highlights and make the drive in a couple of days. It's up to you!
What follows is our breakdown of the different sections of the PCH and the fun and beauty to be found along the way.
Where to stop on the Pacific Coast Highway
Start in the North
San Francisco
You could spend a week or more in San Francisco, but I definitely recommend spending at least a full day there before you begin your journey down the Pacific Coast Highway.
For the best experience, we suggest driving the PCH from north to south, so you'll be on the ocean side of the road. Enjoy a day or more in San Francisco, and then begin your drive!
Want to know what to do there? Read this: 24 Hours in San Francisco: a Family Itinerary
San Jose
San Jose is not right on the coast, so you'll have to decide if you want to head inland for a visit. Being a Google fan, I wanted to visit the Googleplex, but we ultimately decided to skip San Jose on our trip in favor of more time on the PCH.
Santa Cruz
Santa Cruz was our first stop along the PCH. If you love beachside amusement parks (I know I do), you might want to schedule half a day here to ride the rides, walk the pier, and enjoy the beach.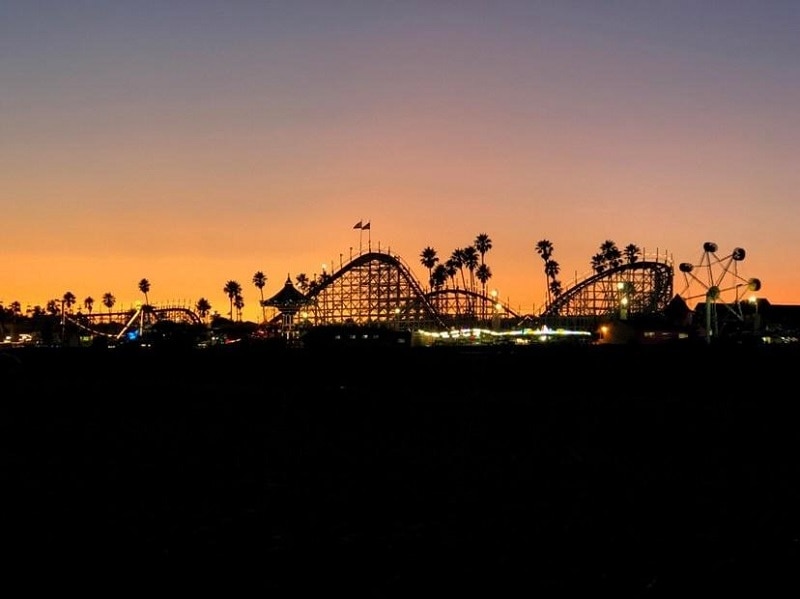 Shopping and Sand
Monterey
In the interest of time, we drove through Monterey without stopping, but I made a mental note to return one day because it looked like a really fun town with lots of great shops! Here's a guide to shopping in Monterey that should help if you plan to bring home some goodies!
Carmel-by-the-Sea
We hit Carmel around lunchtime on day one, so we had a picnic lunch on the beach and let the kids run around a little!
Amazing views
Big Sur
Heading south of Carmel, it's time for the views! There's not much else to do but relax, drive, and enjoy the landscape, but that's more than enough.
If you end up in the area around lunch or dinner time, consider stopping for a bite to eat at Nepenthe, a restaurant right on the coast with incredible views.
McWay Falls
Driving further south, you might want to pull over and take a hike down to McWay Falls. Here's some information on how to hike to McWay Falls.
Only on the PCH
San Simeon's Elephant Seals
We spent the night in San Simeon, and just before it got dark we stopped by for a visit to the elephant seals. These guys are big and unlike any animal we had seen before! We watched them on the beach for a while and then headed over to the Sunset Grill where we sat down for a big family dinner.
Hearst Castle
Also near San Simeon, you can drive inland a little bit to visit the Hearst Castle. We heard the tour wasn't great for little ones, so we skipped it on this trip, but it's on our list to visit someday!
Beaches of LA
Santa Barbara, Ventura, Malibu
As you reach the southern portion of the PCH, you'll find yourself in a series of southern California beach towns. There you'll find a combination of a laid-back surfer vibe and a posh Hollywood celebrity atmosphere. Relax on the beach or take a celeb home tour!
Santa Monica
I said it earlier in this post — I love a beachside amusement park! And nothing is more quintessential "southern California" than the Santa Monica Pier.
Stick your toes in the water (or enjoy a full-out beach day), eat some hot dogs on the pier, and ride some rides if that's your jam. As long as there's warm sun and good music, you're doing it right.
San Diego
Our journey on this occasion ended in Santa Monica, but you can definitely continue on to San Diego. There's lots to see and do there, including the Carlsbad Caverns, LEGOLAND, Sea World, more gorgeous beaches, and, of course, the San Diego Zoo!
And if you're going to San Diego, I definitely recommend driving across to Coronado Island, walking around the Hotel Del Coronado, and enjoying the beautiful beach there.
So that's our take on the Pacific Coast Highway. If you've driven it yourself, let us know your favorite parts. For us, we can't wait to go back and drive it again and have a new set of experiences to report on!
Pin it if you love it!