How to Take a Family Gap Year
A family gap year. My husband and I were considering a year of full-time family travel before we had even heard of the term! But when we told my parents about our intentions to take our kids out of school, sell our home, and travel the country for a year, my mom said, "That sounds awesome! It's a family gap year!"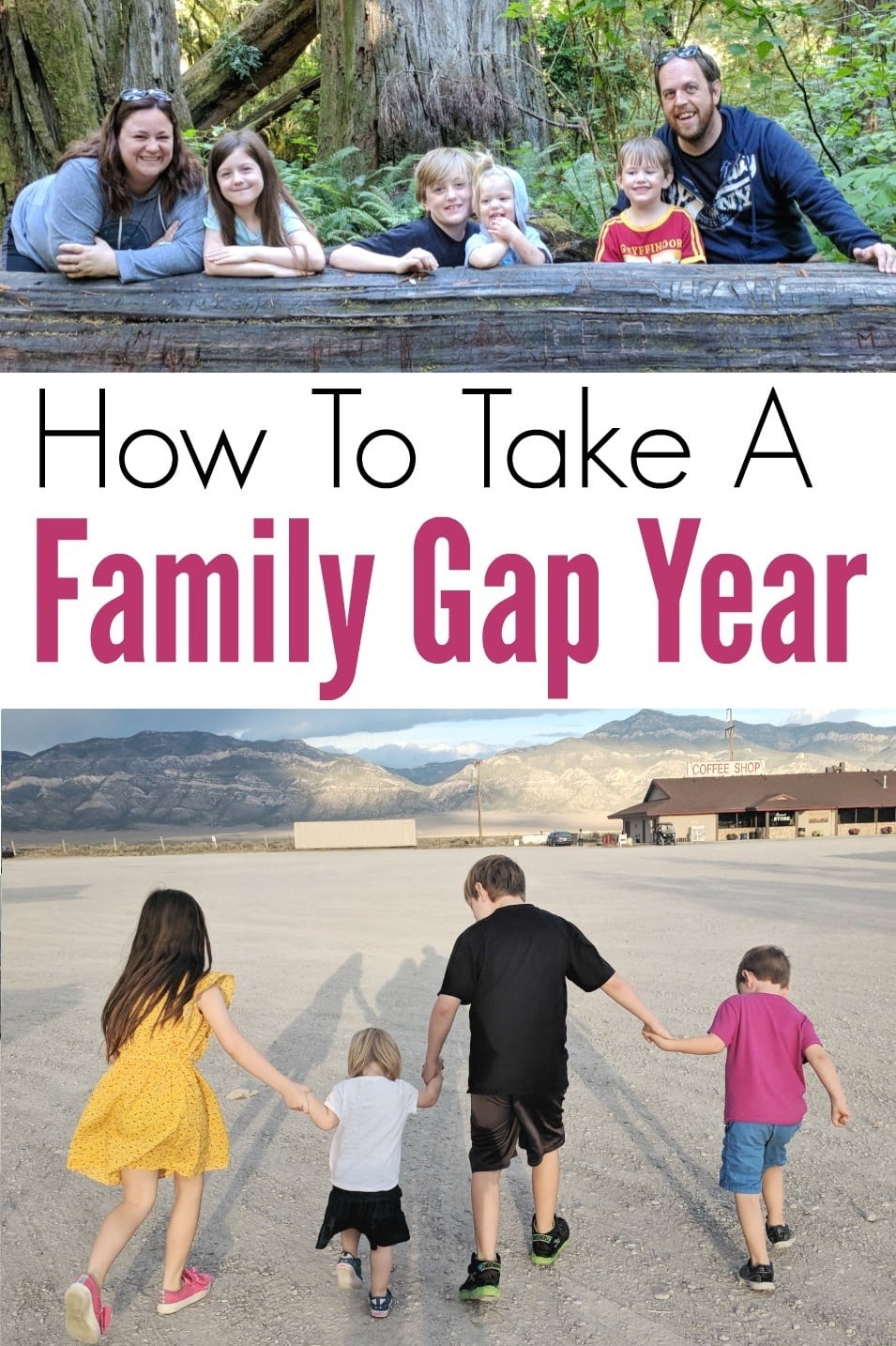 The term "gap year" has been used in the past to describe what some high school grads do — take a year in between high school and college to travel or just experience life as an adult.
But now, more and more families are adopting the term to describe exactly what we were planning. One year of traveling full-time, working remotely, homeschooling (or "roadschooling") our kids, and really seeing and experiencing the world beyond our front door.
So I'm writing this post, from our latest Airbnb rental, on a lazy Saturday afternoon while some of the family is napping and the rest are otherwise entertaining themselves. We are loving our family gap year, and I want to share with you how you can head out on your own!
How To Take A Family Gap Year
All gap years are not made the same! Our plans might not look like yours, but that's okay. There are some basic elements that all family gap years will have in common, and then the varieties are endless.
You may spend your whole year overseas, or you might be traveling stateside in an RV. Maybe you will sell your house outright, or maybe you'll rent it out while you're gone. There might be just three of you, or maybe you've got a family of ten!
For us, we are a family of six (me, my husband, and our four children who are currently 10, 7, 5, and 2), traveling the states in a minivan.
We sold our house and do not plan to return to our old town. You might say we are whole-country-house-shopping, as we have some ideas of where we'd like to settle down after our gap year is over, but we are open to what we find and love along the way! We are primarily using Airbnb to find places to stay.
When we started our year of travel, my husband and I were both working part-time, but I've since taken on a full-time remote job, and he continues to work part-time while homeschooling our kiddos!
Those are our basics; now let's take a look at some of the details!
Working Remotely
I think probably the top concern when considering full-time travel is your job. If you work a job where you go into a workplace and put in your 9-5 hours each day, it might be difficult to take that on the road. Unless you happen to have a lot of money saved and can afford to just not work for a year (and I don't think many of us are in that position!), you will need to be able to work remotely.
Full-time travel works for us because my husband and I both have online jobs. We can work from anywhere with an internet connection!
There are lots of things you can do to earn money remotely. Even if you're currently going into a workplace, consider if you could actually do your work from home. If you can, could you do it from any home? It's something to think about.
Finances
How can anyone afford to travel full-time? I think the main factor is giving up the security of having a house to go back to. Most people cannot afford to pay a mortgage and also to pay for housing while traveling full-time.
There is give and take in everything, and we gave up our home to be able to do this. If you want to go back to your home at the end of the year, renting is an option.
Once you no longer have a monthly mortgage payment, you'll also no longer have a water bill, electric bill, cable bill, internet bill, HOA bill, etc. We were also paying for monthly housecleaning and pest control. You may have local memberships, such as to a gym, that you'll be canceling. Once the house went, most of our bills went along with it!
After we sold our house, the only monthly expenses we had left were car insurance, cell phone plan, and Netflix! We also added a storage unit rental payment, since we put most of our things into storage. We still had our day-to-day living expenses to cover, mostly food and gas. And everything we had left was our budget for housing.
Read also: How to Budget for a Family Gap Year
Homeschooling/Roadschooling
Taking our kids out of school was the hardest part for me. They went to a good charter school. My oldest was about to enter 5th grade, his final year there, having attended from Kindergarten on up. My older daughter was going into 2nd grade, and my younger son was about to start Kindergarten there.
But, given the option, the kids were happy to leave their school behind and see the country. We knew we would be homeschooling or "roadschooling" but, at the same time, we weren't overly concerned about it. Both of our two oldest kids had been in accelerated classrooms, doing classwork ahead of their grade, so we knew that it wouldn't take much for them to be ready for next year's grade when the time came.
We utilize Khan Academy, an online site with free lessons, practices, and quizzes in many different subjects. This was an easy way for them to keep up their math skills, learn about different eras in history, and our oldest even studied high school chemistry!
In addition, we bought Brain Quest grade level workbooks for them to complete. They each completed their current grade level in the first semester and moved on to the next grade level for the second semester.
We utilized Google Drive and had them do a lot of writing — from persuasive essays, to adventure reports, to movie and game reviews.
And of course we looked for educational activities in every place we visited. They are not hard to find!
Read also: Roadschooling: The Ultimate Guide to Teaching Your Kids While Traveling
Preparing To Leave
If you've decided to do a family gap year, there are some steps you'll need to take before you're ready to head out on the road. Here are some of the things you may need to do:
Rent or sell your home.
Decide what you will bring, what you will store, and what you will get rid of or give away. Purge, purge, purge!
Figure out how to handle your mail.
Cancel any local memberships or subscriptions.
Follow any requirements as far as taking your kids out of school and declaring your intent to homeschool.
Get your vehicle tuned up.
Make doctor appointments for everyone.
Refill any prescriptions you will need.
Look at insurance options.
Pack any important original documents such as birth certificates and passports, and take pictures of any other important information that you will want access to.
Selling Or Renting Your Home
The decision to sell or rent your home is a personal one, but it shouldn't be too hard to decide. If you love your home and know that you want to return to the same town you are leaving, then rent it. If you plan to settle elsewhere, aren't sure, or aren't in love with your house, then sell it (hopefully at a profit!).
Getting Your Mail
This can be a tricky one. If you've sold your home, then you don't really have a permanent address. You can ask the post office to hold your mail for a certain period of time, but they have limits. I think the best option is to have your mail forwarded to a relative's home, if you have a relative who is kind enough to receive your mail and keep it in a box until you are able to retrieve it. Ideally, they'd also alert you to anything important that arrives.
I also suggest you go paperless and digital wherever possible. Make any bill payments online, cancel magazine subscriptions, etc.
If you need to order items while traveling that you can't get at a local store, you can use Amazon Lockers, if you are near a big city that has them. Amazon may also deliver to the house where you are staying, but no guarantees!
Where To Go
So where do you want to go? A lot of families head overseas because the cost of living and housing can be a lot less expensive, but the cost of airplane tickets can be a dealbreaker! Maybe you prefer small towns over big cities. Spend some time making a list of your dream destinations!
You don't have to plan every step of the way at the beginning, but it's good to have a general idea of your route. We knew we would head up to Washington first because the Pacific Northwest was an area we had never visited and both wanted to visit! Also, we already had a Disneyland vacation booked the following month, so we went to Washington for a month, and then visited Portland, San Francisco, and drove the Pacific Coast Highway, on our way to Disney.
We knew that we were interested in visiting Denver, where my sister lives, because that was another place we had never been. Then, when thinking about where we wanted to be during the coldest part of the year, my husband zoomed in on Google Maps to the most southern part of Texas!
I grew up in Maine, and we love to go back there during the summertime, so we knew we wanted to be in that area in the summer, so we made a basic plan to go from Texas to Florida (where my parents now live), and then up the east coast. After visiting Maine, we thought we might be ready to settle down, but we were having such a good time that we continued on!
Where To Stay
If you're traveling in an RV, the good news is that you don't necessarily have to pay by the night. But you do have to plan ahead to ensure that you have a place to park, and, depending on where you go, some places do charge a nightly fee.
For us, Airbnb is an essential part of our whole plan. We are taking advantage of the fact that most Airbnb rentals are greatly reduced when you stay long-term. Many renters will offer a weekly discount or a much-steeper monthly discount. Because of this, we have been booking our locations for at least 28 nights at a time, and we've been able to consistently find places plenty big enough for the six of us in the range of about $1200-$2000 per month.
This means that we aren't bouncing from place to place every few days and we get to stay long enough in each location to really experience the city like a local. It also provides some stability for our kids.
We have tried to choose locations that have a lot of things to do and are close to a major city that we can explore. And we often make quicker visits to other destinations in-between rentals.
So, for example, between our month in Washington and a month in Arizona, we visited Portland, San Francisco, drove the PCH, and went to Disneyland. Before heading off to Texas, we visited Denver for a weekend and spent a day in San Antonio before checking into our month-long rental on South Padre Island. Then we visited New Orleans on our way to Florida.
Read also: Where Do You Stay During a Family Gap Year?
What To Do
Now that you're on your family gap year, what do you do? Well, many days are life as usual. We work, the kids do schoolwork, we watch TV, we do laundry and cook meals, etc. And on other days we are off on adventures, sightseeing in the area we are living, or stopping by exciting places en route to our next destination.
It's a great combination of being "on vacation" without the exhaustion that comes with constantly traveling and filling every hour with activities. While staying in an area, we try to do at least one "field trip" day each week.
It's easy to find fun activities in your area simply by using Google, but another site I really like is Atlas Obscura. It lists places and sights that might be a little more off the beaten path or only known to locals. I like to combine places I've found on Atlas Obscura with the "must-sees" of the area to round out our adventures.
What To Bring
I was just joking with my husband about this post, and I said, "I'm going to tell them to pack up everything they think they'll need…and then put half of it back."
But seriously! You will bring more than you need. We were lucky to be able to do a one-month trial run, because our plans took us back home (staying with family) for a couple of weeks between our first and second destinations. We found ourselves back at our storage unit tossing in bags full of stuff we decided we didn't need.
Here are some things we decided to bring along:
Laptops and tablets for everyone
5-7 books per person
Kids school workbooks and pencil cases with supplies
Clothes, clothes, clothes (We knew we were going to hit both cold and hot weather, so we had to bring all types of clothing.)
Roku
One bin with a wooden train set and some other toys
A couple of board games, card games, and an NES Classic
Pickleball paddles and balls
A small printer and some basic office supplies for my job
Toiletries and first aid kit
Stroller
Guitar
Update: Now we travel full-time with just backpacks! You can find all the details including packing lists and videos in our guest post on Her Packing List — Ultimate Packing List for Full-Time Family Travel
Because we stay in Airbnb homes, here are some things that we did not bring, which are usually provided to us:
Sheets
Blankets
Towels
Kitchen supplies
Hairdryer
What To Do With Your Stuff
Other than the traveling, this is the best part! I'm going to go out on a limb and guess that you've thought to yourself, "I don't need all of this stuff. I really need to declutter my whole house and pare my things down to what I really need and love."
Am I right?
Well this is your chance! If you're selling your home and traveling with a minimum amount of possessions, even if you're putting some of your stuff into a storage unit, you will need to get rid of a lot.
This is your opportunity to go room-to-room and purge, purge, purge. Get rid of anything and everything that you don't need or love. Use that Konmari method. Touch it and think about if it brings you joy (or, like, personal hygiene). And if not, do like Elsa and LET IT GO!
We took carload after carload of stuff to Goodwill. We threw away anything that had no value. We had a two-day yard sale. And we sold our larger items that didn't sell at the yard sale on OfferUp. We made about a thousand dollars!
And even after all that, we have a very full 10′ x 10′ storage unit. Here are some of the things we chose to store, either because they held emotional value or were something that we wanted to furnish our eventual new home:
Kitchen table and benches
Some kitchen supplies (crockpot, dishes, etc)
Bins of kids clothes (sizes the two big kids have grown out of but the little ones haven't grown into yet)
Dressers
Nightstands
Desks and a desk chair
A twin bed and set of bunkbeds, disassembled
Crib (all four kids have used it as a baby, and I want to turn it into a bench)
Musical instruments
Personal mementos
When we decide to settle down, my husband and I will travel back, unload the storage unit into a moving truck, and drive it to our new location.
How To Transition Back To Real Life
After your awesome year of traveling, it'll be time to transition back to "real life." That is, unless you've decided to continue beyond a year!
Our gap year has turned into a "gap year and a half" and still going strong, so while I haven't actually been through the transition back (but will update when I have!), I do have a few thoughts.
If you are headed back to your old home or at least your old town, it will probably be an easier transition. You may want to research ahead of time what you will need to do in order to re-enroll your kids into school. Different states have different requirements for what you need to do. You may need to submit a portfolio of work, a letter from a certified teacher, or the kids might need to complete some testing.
If you are settling in a new place, you may want to arrive and plan on getting a monthly rental while you acclimate, apply for jobs if you'll be taking on something new, and figuring out which schools the kids will attend. That will give you enough time to learn the area and buy or rent a house in the neighborhood of your choice.
While you're likely to miss the adventure of the road, you can look forward to some luxuries you haven't had for at least a year, such as decorating and organizing a new home that's truly yours, making friends that you can see on a regular basis, and hey, even receiving mail!
And don't forget, even if you've settled down, you can always hit the road again when the spirit moves you. Adventure is out there when you're ready for it!
Can I really travel full-time with my family?
Hopefully all of this information has answered that question. Absolutely you can. The sky is literally the limit. It's not necessarily easy, but if seeing the world is a dream of yours, then you should go for it. Your kids will get a better education than they could ever get, sitting in a classroom, and you will make memories together as a family that you will never, ever forget.
Want to learn more about how to take your family on a family gap year? We teach you absolutely everything you need to know, step-by-step, to travel full-time with your family and have the adventure of a lifetime. Check it out in the Family Gap Year Academy!
Happy travels!