Things to do in Omaha with Kids
Don't let Omaha's size fool you — there are plenty of fun things to do with the kids! Omaha is a great place to take your kids on vacation because it has so many family-friendly attractions for all ages.
We spent three years traveling all over the United States, and it took us quite a while before making it to Nebraska. In fact, Nebraska was my 49th state visited! We drove back and forth across the country many times, but our route never quite took us into the state.
But in October 2020, we decided enough was enough. On our way from Arizona to Colorado, we made a detour and visited both Kansas and Nebraska for the first time. My mother-in-law cheekily asked us if we'd ever seen a map! Sure, those states weren't exactly on our route, but they were close enough!
We decided to visit Omaha (which is on the east side of the state) to check Nebraska off our list, and then we also visited Chimney Rock on the west side of Nebraska before crossing into Colorado.
Don't miss: The perfect road trip map for visiting all 50 states!
Below you'll find our top recommendations and great ideas for entertaining the whole family while in Omaha, whether you're visiting long-term or just passing through.
Kid-Friendly Places to Visit in Omaha, NE
Bob Kerrey Pedestrian Bridge
First on my list…a bridge! Okay, it might not sound exciting, but we had a great time walking across it from the Iowa side to the Omaha side!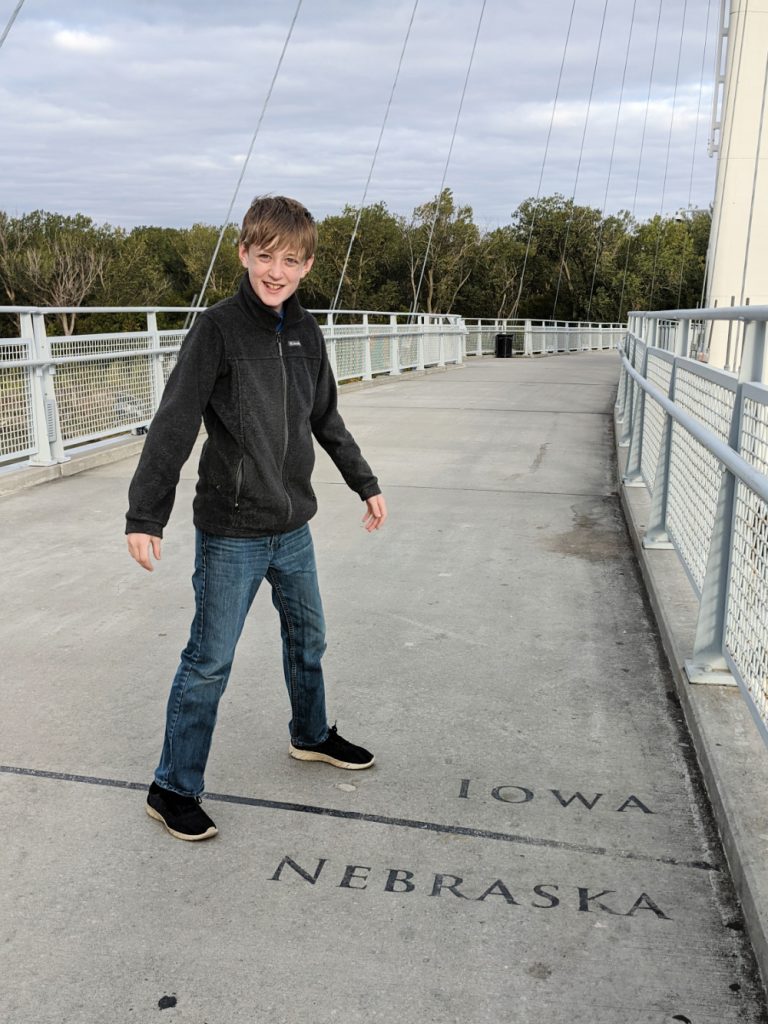 The Bob Kerrey Pedestrian Bridge crosses the Missouri River and connects Nebraska with Iowa. We actually stayed in Council Bluffs on the Iowa side during our visit, and it was fun to walk from one state to the other.
The kids loved that there was an actual troll under the bridge, and there were several signs along the way that incorporated OMAR the Troll into some fun activities.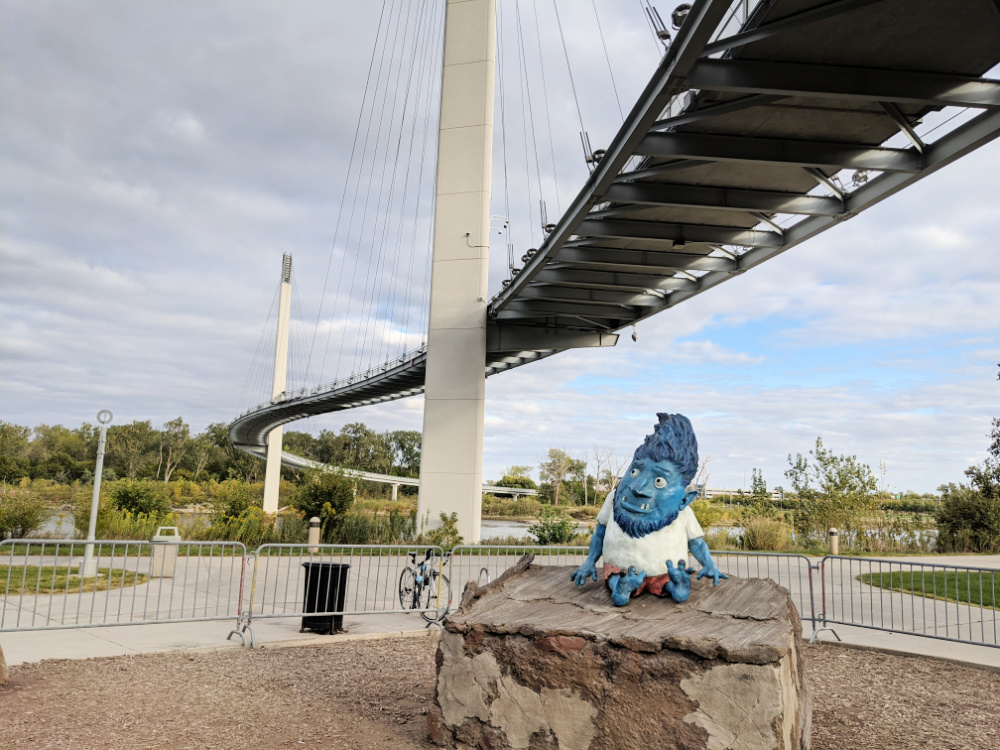 If you're looking for free things to do, this bridge and troll games should be at the top of your list!
Lewis and Clark National Historic Trail Headquarters and Visitor Center
Right nearby the pedestrian bridge is the Lewis and Clark National Historic Trail Headquarters and Visitor Center. Whew, that was a mouthful.
This is a nice place to walk around and enjoy the outside air, plus you can visit the center where they have some exhibits that teach about Lewis and Clark and the history of the area. You can also earn a junior ranger pin!
Omaha's Old Market
I heard that the Old Market in Downtown Omaha was the place to be for dinner, so we headed there when we were ready for a good meal. And we got it!
We ate delicious Italian food at Spaghetti Works — well…the little kids ordered their peanut butter & jelly pizza which was questionable in my eyes, but they seemed to like it! My favorite part was the old-fashioned salad bar, set up in the beds of two Model-T trucks!
The Rose Theater
After dinner, why not catch a show at the Rose Theater? This performing arts center caters specifically to children and families, and their shows are sure to be a hit with all ages.
The building itself began its life as a vaudeville theatre in the 1920s, then was turned into a movie theatre in the 1930s. It went through several other transformations before becoming the theatre it is today. Check their website to see what shows are currently playing!
Joslyn Art Museum
The Joslyn Art Museum is housed in a 1931 art deco building and contains collections of artwork from all over the world, both permanent and temporary exhibits.
Outside you'll find the Peter Kiewit Foundation Sculpture Garden as well as the Discovery Garden, which is full of interesting sculptures and exhibits that kids can interact with.
The museum is currently undergoing major renovation and is expected to reopen in 2024!
Durham Museum
The Durham Museum makes its home in Omaha's historic Union Station. Here, you'll find a variety of exhibits, with an emphasis on local history. Kids will enjoy exploring recreations of homes and a grocery store in Omaha from decades past.
They'll also love hopping on board train cars from the 40s and 50s and interacting with the model train set. And there is so much more to be found in this gem of a museum!
Lauritzen Gardens / Kenefick Park
We always love a stroll through a botanical garden, and in Omaha the Laurizen Gardens are the place to be! And you'll find much more than flowers here.
There are a number of themed gardens, a hiking trail and waterfall, a model railroad garden, an arboretum, and a bird sanctuary. You can take a tram tour through the gardens, and they offer lots of events throughout the year, including holiday celebrations, outdoor concerts, and summer camps for kids.
See if you can find all the gnomes that are hiding throughout the gardens! Kids will love looking for them!
The Henry Doorly Zoo and Aquarium
Omaha's Henry Doorly Zoo and Aquarium is a great place for kids to visit because it has something for everyone. There are tons of different animals from all over the world, as well as special exhibits and tours that have plenty of kid-friendly interactive activities.
Animals at the zoo include gorillas, tigers, elephants, bears, sloths, and much more. Have a blast going on a safari adventure tour and exploring a rainforest habitat!
Heartland of America Park
The beautiful landscapes and breathtaking views found at Heartland of America Park are sure to make memories for you and your family. Take a walk on one of Omaha's most treasured trails, or stop by the visitor center where kids can search for treasures in their completely free interactive indoor exhibit.
The park has been under construction since 2019, but is scheduled to reopen in 2023!
Omaha Children's Museum
The Omaha Children's Museum is a great place for kids to spend their day because it has tons of interactive exhibits that are specifically tailored for them. What child doesn't want to be able to climb on a volcano or push buttons in an air traffic control tower?
The museum also has fun and educational programming including many camps. Each week they have a different topic that they cover, like dinosaurs or transportation.
Fontenelle Forest
On the southeast side of town, you can escape to the Fontenelle Forest. You'll find a wide variety of hikes, including a mile-long, ADA-accessible boardwalk. Bring a lunch and enjoy eating at one of their picnic areas, surrounded by nature.
Kids can play and learn at Habitat Hollow, an indoor play area. And visit the Raptor Woodland Refuge, where rescued birds make their home in the tree canopy.
You can also take on a ropes course with their TreeRush Adventure Park, which has activities for kids as young as 4!
Lake Manawa
Want to spend the day at the lake with your family? Cross over to nearby Council Bluffs, Iowa and have an amazing time boating or fishing on Lake Manawa! There are also special events happening throughout the year where you can get even more out of your trip. With so many activities to enjoy onshore or in the water, this is a great place to visit with kids any time of year!
Bring the kids out on the lake during the day for some family fun in a boat, or just spend the day relaxing on the beach. If you're looking for a little more excitement you can always rent a jet ski or go parasailing during the day. There are also live band concerts that are held on both Friday and Saturday evenings that are perfect for families with kids who love music!
The Amazing Pizza Machine
Sometimes you just have to give the kids what they want the most — pizza and games! Come to think of it, I like those things too!
The Amazing Pizza Machine really cranks the fun up a notch, with go-karts, bumper cars, laser tag, indoor playgrounds, tons of arcade games, thrill rides, and so on. But the real main event is the incredible, unlimited buffet of pizza, pasta, nachos, soup, salad, desserts, and so much more!
---
Whether you're just passing through or staying a while, Omaha is a great place to visit with your family because it has tons of events and attractions that are perfect for kids. You certainly won't be bored when you visit Omaha!
We initially visited Nebraska mostly to check the state off our 50-state bucket list, but this destination captured our hearts and we hope to visit again soon!