The perfect road trip map to drive across the United States
Summer is the perfect time for a road trip, and spring is the perfect time to plan one! With the weather warming up, we tend to get itchy for travel. Today I'll share our perfect road trip map to see any part (or all) of the United States. Let's hit the road and take that great American road trip!
When we started our family gap year, two and a half years ago, we planned to travel from the Pacific Northwest, down the coast of California, through Texas to Florida, and then up the east coast.
We did just that, but then we continued to travel and have now circled the United States four times — and we're preparing for our fifth round! Each route has been a little different, which has helped us hit new regions, see diverse landscapes, and visit unique attractions.
The perfect United States road trip map
So where do you want to go? From coast to coast, there is SO much to see and do in the United States. It's one of the biggest countries in the world, and your experience can be just about anything you'd like — from a tropical adventure in south Florida, to the snowy mountains of Colorado, to the misty Pacific Northwest. You can head to New York and experience that big city life or escape to the quiet plains of the midwest.
There are two different kinds of road trips: those that are focused on the destination and those that are focused on the journey. Maybe you're driving on a road well-known for its beauty, like the Going-To-The-Sun Road in Glacier National Park, or maybe you're driving just to get from city to city and visit the hot spots.
But ideally, you can combine both of those goals and see gorgeous landscapes on your way to fun activities!
Don't miss: Our Family Gap Year Itinerary
The best route to visit all 50 states at once
Unless you're a very extreme or long-term traveler, I'm guessing you don't plan to hit every single state — but if you are, I can point you in the right direction!
Check out Randy Olson's optimal US road trip maps, or visit TripSavvy's list of must-see American attractions in an ordered loop you can begin at any point. These are two great resources if you are trying to go everywhere!
Our biggest tip for traveling the whole country: go south in the winter and north in the summer! Yes, being snowbirds is basically our life goal.
The best road trips by region in the United States
I'd love to share our favorite road trip routes in each region of the US. This will help you plan the perfect road trip in your own neck of the woods, or anywhere you plan to visit across the country!
For more details on fun things to do in each region of the US, check out my guest post on The Art of Travel: Visiting all 50 US States
Getting misty in the Pacific Northwest
We'll always have a soft spot for the northwestern corner of the country, as that was our very first stop on our full-time family travels. We had never visited before, so the giant trees and almost-perpetual rainbows had us captivated.
Head to Seattle for a wide range of activities: go up to the top of the Space Needle, ride a wooden boat on Lake Washington, wander through Pike Place Market, and visit Amazon HQ.
If you've got plenty of time to spend in Washington, consider driving the Cascade Loop, visit Mount Rainer National Park or Olympic National Park, or look for orcas in the San Juan Islands.
Then go south to Portland and browse the shelves at Powell's Books and eat a Voodoo Doughnut. Head just to the east to visit gorgeous Multnomah Falls, then drive to the west coast to visit Cannon Beach and Haystack Rock.
Your Pacific Northwest road trip map
Cruise down the coast of California
I couldn't write a blog post on great road trips without including the Pacific Coast Highway! We got to drive highway 1 down the coast of California near the end of 2018, and we'll never forget it!
Start in San Francisco — visit the redwood trees and drive across the Golden Gate Bridge. From there, follow highway 1 and drive through Santa Cruz, Monterey, Carmel-by-the-Sea, and Big Sur. Stop in San Simeon and see the elephant seals. Then cruise through the southern California beach towns of Santa Barbara, Ventura, and Malibu, and end your journey at the Santa Monica Pier (or continue on to San Diego).
Your Pacific Coast Highway road trip map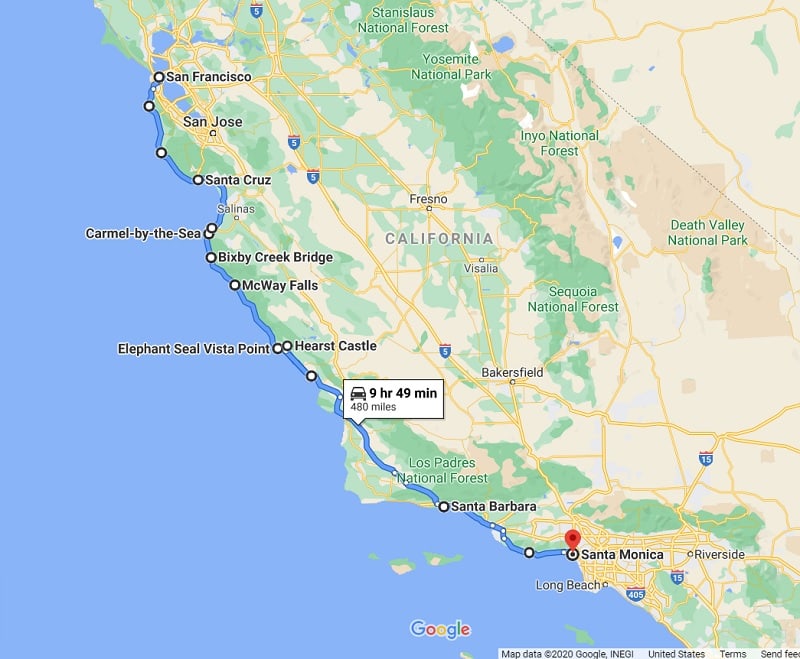 Get your kicks on Route 66
Having lived in Arizona for many years, we've driven along Route 66 more than once. Yes, it extends all the way "from Chicago to LA", but there are some great iconic landmarks you can still visit along the Mother Road in Arizona, so it's our pick for the southwestern region of the US.
Top stops along the way include the Wigwam Motel in Holbrook, "standing on the corner in Winslow, Arizona", the Meteor Crater, Twin Arrows, Seligman, and Kingman. Visit soon — some landmarks are sadly wasting away.
All 50 States Tip: Once you get to Kingman, it's just about 90 minutes to get to Las Vegas, if you need to check Nevada off your 50 state bucket list!
Your Route 66 road trip map
Complete the Texas Triangle
Texas boasts a number of major cities, living up to the saying that everything is bigger in Texas! And you can visit each of these metro areas when you take a triangle-shaped road trip in the middle of the state.
Start in San Antonio: walk the Riverwalk and tour the Alamo. Drive up to Austin for some great live music and nightlife. At the peak of the triangle you'll find Dallas: smell the flowers at the Dallas Arboretum, play around at the National Videogame Museum, and eat a steak…because you're in Dallas and living that cowboy life.
Head southeast to Houston and visit the Houston Space Center, and then drive to the coast to ride the rides at the Pleasure Pier in Galveston.
All 50 States Tip: If you're coming to Texas from Arizona, you might try to time your trip so you hit the Hot Air Balloon Fiesta in New Mexico on your way. It happens in October and is well-worth the stop!
Your Texas Triangle road trip map
Glide along the Gulf Coast
You'll find small beach town charm and pristine white sugar sand along the Gulf Coast of the United States. It's one of our favorite spots in the country!
Start in New Orleans and soak up all the French Quarter has to offer, including muffalettas, beignets, and really great jazz. Then drive east, across the bottom of Mississippi and Alabama. Leave I-10 to drive south to Gulf Shores, Alabama, and then stick to the roads closest to the beach as you drive along the Florida panhandle, stopping at any beach towns that take your fancy.
If you've got the time and the budget, continue heading into central Florida for some fun at the theme parks, and then drive south to our next road trip recommendation…
Your Gulf Coast road trip map
Road trip through the tropics
In Southern Florida, you can get a real taste of the tropics without having to leave the continental US! Miami is just a 3-hour drive from Orlando, and about another 3-hour drive will take you through the Keys all the way into Key West.
In Miami, visit the colorful Wynwood neighborhood, and make sure to grab some Taiyaki ice cream! Then head over to South Beach and check out the nightlife.
In Key West, walk down Duval Street and say hi to all the chickens that roam free. Make sure to have a slice of key lime pie and watch the sunset in Mallory Square.
Your southern Florida road trip map
Adventures in Appalachia
Discover the delights of the southeast in what you might call the "Appalachia" region. You can make a bit of a circle traveling through Savannah and Atlanta in Georgia; Nashville, Tennessee; Charlotte, North Carolina; and Charleston, South Carolina — or the other way around!
See the Spanish Moss in Savannah, taste every Coke product in the World of Coke tasting room in Atlanta, experience Music City in Nashville, stroll the botanical gardens at UNC Charlotte, and take a carriage ride through Charleston's cobblestone streets.
This route will also take you through Chattanooga, Knoxville, and Asheville — other great cities to explore, so be sure to stop if you have time!
Your Appalachia road trip map
Explore US history in the mid-Atlantic
Heading north, the mid-Atlantic states are a great place to learn about our country's history and visit some of the biggest, busiest cities in the world.
In Virginia, you can experience colonial life at Historic Jamestowne. In Washington DC, you could spend hours and hours exploring all the free museums and memorials (and don't forget to visit the pandas at the National Zoo).
All 50 States Tip: Harper's Ferry, West Virginia is just one hour west of DC, and there you can hike part of the Appalachian Trail!
In Pennsylvania, you can visit Independence Hall and the Liberty Bell.
Then drive up to New York City and experience the Big Apple! If you're visiting after Broadway has reopened, definitely take in a show. Take the requisite visits to Times Square and Rockefeller Center, and stroll through Central Park.
Ride the Seaglass Carousel in Battery Park and tour the Statue of Liberty. Then, take the Q train to Coney Island and eat some hot dogs and deep-fried Oreos.
That's right — historic sites AND deep-fried Oreos. You're welcome.
All 50 States Tip: This is where you should check off Delaware and New Jersey, too. Visit Rehoboth Beach and Atlantic City and enjoy the beaches and boardwalks!
Your mid-Atlantic road trip map
Take a pilgrimage to New England
Get it…pilgrimage?
All 50 States Tip: As you head north, stop in at the Mystic Aquarium in Connecticut and stroll the cliff walk in Newport, Rhode Island.
Get your dose of history by walking the Freedom Trail in Boston, and have some fun on a Duck Tour. Then drive north for a trip through the most quaint, picture-perfect New England port towns. Walk around Portsmouth, New Hampshire, then make your way into Maine.
I was born and raised in Maine, so yes my New England road trip is a little Maine-heavy!
Visit Dock Square in Kennebunkport for some primo shopping and a summertime treat, like a fresh-squeezed lemonade or ice cream from Aunt Marie's.
Then, head to Old Orchard Beach for a day of fun at the beachside amusement park, Palace Playland. Do NOT leave without getting an order of pier fries — and eat them like the locals, doused in vinegar and caked with salt.
Portland is a much-loved Maine "big city" so take a stroll through the Old Port and check out the unique shops and bars. Then, if you've got the time, drive to Acadia National Park and catch the earliest sunrise in the United States.
All 50 States Tip: If you're headed to the midwest from New England, drive through Vermont and tour the Ben and Jerry's Ice Cream Factory, then stop at Niagara Falls in New York!
Your New England road trip map
Meander through the Midwest
Things get a little tricky in the Midwest and central US just because there are so many options for where to go and in what order. So I'll detail the two routes I would take, but you can mix-and-match the cities in this section and the next, and curate your own perfect road trip map through the middle of the country!
If you're coming from the Northeast, stop in Cleveland, Ohio to tour the Rock and Roll Hall of Fame, then head to Detroit, Michigan to visit the Motown Museum and take the Coney Dog Challenge.
If you'd like, stop to explore Cincinnati on your way to Louisville, Kentucky. In Louisville, see how they make baseball bats at the Louisville Slugger Factory and learn all about horse racing at Churchill Downs (or hey, time your road trip to attend the Kentucky Derby!).
Check out the Indy 500 track in Indianapolis, or try your hand at some duckpin bowling. Then drive west to Chicago. See The Bean, eat a Chicago dog and some deep-dish pizza, and admire the artwork at the Art Institute of Chicago. If you must have the full Ferris Beuller experience, go to the top of Willis Tower and put your forehead against the glass.
Head north and cross into Wisconsin. Visit the Milwaukee Public Market and get your fill of local cheese! From there, go to Minneapolis and get lost in the Mall of America or go downtown and toss your hat in the air a la Mary Tyler Moore.
All 50 States Tip: You can drive about 3.5 hours from Minneapolis to Fargo, North Dakota, where you can join the Best for Last Club (IF North Dakota is your 50th and final state visited)!
As your last midwestern stop, head south to Iowa and explore Des Moines. Walk through the John and Mary Pappajohn Sculpture Park and visit the famous bridges of Madison County.
All 50 States Tip: You can fit Nebraska in here by heading to Omaha — enjoy a leisurely walk across the Bob Kerrey Pedestrian Bridge and then have a nice sit-down dinner in Omaha's Old Market. Or, if you prefer, you can visit the other side of Nebraska on our next route.
Your Midwest road trip map
Go through the Gateway to the West
Start your exploration of the central US in St. Louis and go up in the Gateway Arch. Then, on your way to Oklahoma City, stop in Bentonville, Arkansas to tour the Walmart Museum and the Crystal Lakes Museum (both free and worth the visit!).
In Oklahoma City, visit the Oklahoma City National Memorial (the site of the 1995 bombing) and the Land Run Monument. Then head north to Kansas and stop in Hutchinson to go 650 feet underground into the Strataca Salt Mine.
From there, drive west to Denver. There's lots to do here! Stand a mile high on the Capitol steps, relax in one of the many parks, get your game on at the 1Up Arcade Bar, and take in the majestic view of the Rocky Mountains.
After you've gotten your fill of Denver, it's time to visit the Dakotas. On the way, you can take a quick detour into Nebraska to stop by Chimney Rock, of Oregon Trail fame.
In the southwest corner of South Dakota you'll definitely want to stop and see Mount Rushmore. Then drive north to Medora, North Dakota and visit the prairie dogs at the Theodore Roosevelt National Park. From here, you're in a great place to take our final road trip route!
Your Gateway to the West road trip map
Tour the western national parks
Last summer, we took an epic road trip across the US and the final third was comprised mostly of national parks on the western side of the country. We had a blast and saw some incredibly diverse, beautiful terrain.
Start in Glacier National Park and spend a day driving the Going-To-The-Sun Road. Then head to Yellowstone National Park in Wyoming and be sure to see Old Faithful and the Grand Prismatic Spring.
After Yellowstone, stop in at Grand Teton National Park, just south of Yellowstone. We missed this one but hear it's a must-see.
From there, go south to Zion National Park in Utah and drive through the breathtaking red rocks. Then drive into Arizona and visit the Grand Canyon. You'll see so many wonders on this trip that you'll never forget it!
Your western national parks road trip map
Our top road trip tips
As expert US travelers (we've been to 49 of the 50 states — just gotta make it to Alaska!), here are some of our top tips to consider while you plan your road trip:
1. Make a plan but stay flexible
It's good to know where you plan to be and when, how long it will take to get there, where you plan to stay, and what you want to do while you're there. Especially in this post-Covid world, a lot of activities require planning ahead.
That being said, leave room for flexibility wherever possible. If we know we'll be spending the night somewhere on the way to a destination, we won't book a hotel until we're almost ready to stop. Sometimes we are able to drive further than planned, and sometimes things come up and we get delayed — like the time it took 7 hours to drive 20 miles in New Mexico!
2. Prep your car
Fill your tires, check the oil, top up the fluids. Give yourself every reason to believe your car will get you from point A to B to C…and home again!
Also, consider getting your car detailed or deep-cleaned ahead of time, and be prepared with paper towels and wet wipes to keep things clean.
3. Stay comfy and entertained in the car
You'll be seeing some incredible things…but also spending a lot of time just driving down the highway. A pillow and a blanket per person goes a long way, as does trivia games, books, podcasts, and (when all else fails) well-charged devices!
4. Pack light
You need some clothes and your phone. Not much else! Your phone (assuming it's smart) is your map, your entertainment, and your way out in an emergency. Like I mentioned, toss in a blanket and pillow, maybe some non-screen books and games, and you're good to go! Oh and snacks. Because is it really a road trip if you don't have snacks? (No.)
Visit our sister site for some truly incredible road trip car hacks!
5. Combine touristy attractions with local hidden gems
A Google search can easily tell you the must-do activities in every city you visit, but also visit Atlas Obscura for some more, well, obscure things to see and do!
---
I sure hope this has given you some great information on where to road trip in each region of the US. Combine two or three routes (or all of them!) to create your own perfect road trip map to really see and experience this beautiful country, by car!
Thinking of heading out on a full-time family travel journey? Learn absolutely everything you need to know in our Family Gap Year Academy!
Pin it if you love it!