Where to see redwood trees in California
On our travels across the States, we noticed that we've done all the things from the song "This Land is Your Land". That includes visiting the majestic redwood trees in northern California.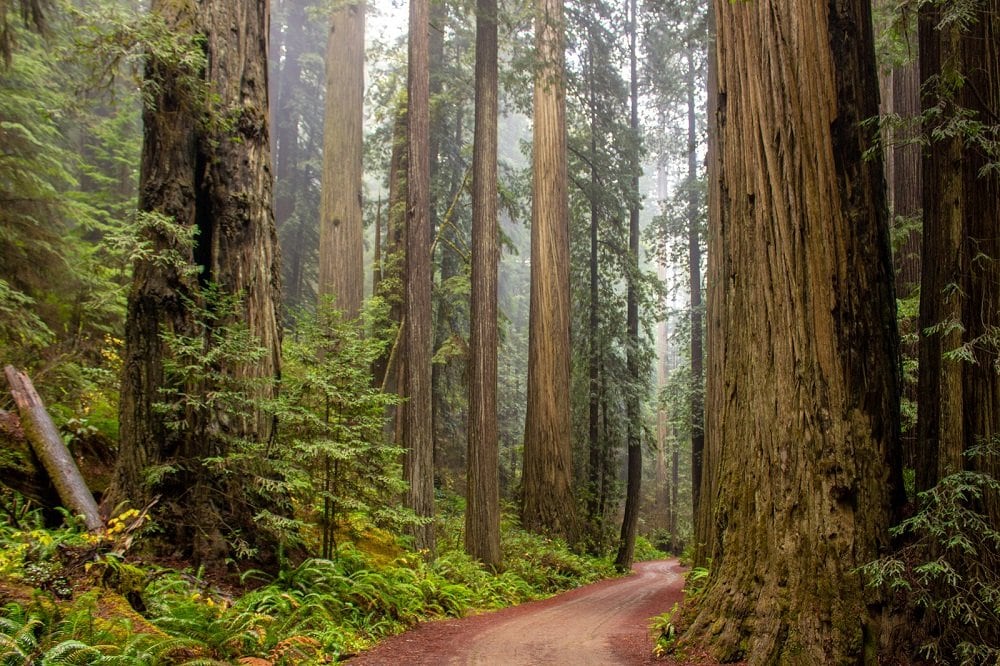 After our visits to Seattle and Portland, and on our way to San Francisco, we went just a tiny bit off our route to visit the Jedidiah Smith Redwoods State Park in Crescent City, California.
Read about all of our family gap year adventures: Our Family Gap Year Itinerary
We were not about to drive through northern California and NOT see some of these giant trees. Luckily it was one of the easiest and loveliest things we've done on our travels!
Easy redwood tree hike in northern California
I used the California Parks and Recreation website to plan the best place to stop and have a walk around. This page gives details on the different hiking trails in the park.
We decided to visit the Stout Grove and do the easy 1/2 mile hike, since we have four young kids. It was right off the road, with parking (though not a lot) and restrooms.
We took our time on the trail, taking every opportunity to explore among the fallen trees and search for the biggest tree of them all.
It was a beautiful and peaceful morning walk, the sun shining and the weather just perfect in early October.
I love these next two pictures because they showcase just how gigantic these trees are!
Here's Carter casually leaning against a redwood tree:
And here's that same picture zoomed out:
The drive through the park to get to Stout Grove was wonderful, with picturesque views all along the way.
From there, we headed down the coast, driving the Pacific Coast Highway in two days.
There are other places you can see the redwood trees in California, including Muir Woods National Monument, near San Francisco. If you're visiting and don't have time to venture too far away, visit Muir Woods and hug a redwood!
We were so glad we made the time to go slightly off our route and spend some time in nature. The next time we're in the area, we'll definitely do it again!
Pin it if you love it!